Our Founders
Andy was born in Oxford, England. He was brought up in a soccer family with two generations of professional play. Andy was a registered semi-professional player with Oxford City at age 16. He became a branch sales manager for a large office equipment company at 21. While studying Physical Education from ages 23 to 26, he was ever present with the British Collegiate team. He graduated with honors in Human Movement Studies at 26.
Before moving to America, he coached British youth soccer teams for ten years and lectured in Physical Education. After arriving in Kansas City, he founded British Soccer Camps, (Now Challenger Sports, the USA's largest camp organization). He was Director of Coaching for the Kansas State Soccer Association from age 27 to 32 and formerly Mid-West Girls Regional Director of Coaching and USSF U19 National Staff Coach/Selector. For five years he served as Director of Marketing and Coaching for a multi-million dollar indoor soccer and sports mall company. He coached at Avila University in KC, is currently in his 18th year as Director of Coaching for the Kansas City Legends Soccer Club and an NSCAA Convention clinician.
Andy holds a United States Soccer Federation "A License" an NSCAA Advanced National Diploma and coaching qualifications in 8 other sports. Andy's teams have won 13 National Indoor Championships & 3 USYSA Regional Championships. A team with 10 of Andy's former players coached by Chris Klein, of U.S. National team fame, won the U20 National Outdoor Championship in 2002. Andy is the owner of Soccer Excellence Inc., the K.C. Legends Soccer Club, National Indoor Soccer Championship, SuperClubs North America, the SuperClubs National Team Tours and the HappyFeet Preschool & Legends Soccer Club Franchises.
Andy is the author of a 320-page book on soccer coaching Training Soccer Legends. In his vivid, unorthodox soccer book he describes the philosophies and methods that have led to the successes of the teams and individual players who play for the Kansas City Legends Soccer Club. Moving from topic to topic, in each segment he provides new thought-provoking insight on questionable youth coaching methods. He draws from the many strands of his experience, his passion for the game of soccer, his lifelong infatuation with the great players of each era, his study of physical development and leadership, his loyal credo, his adventures in competition with players of many different ages, abilities, classes and national backgrounds, plus the hard work, headaches and rewards of the soccer playing, promoting and coaching life. His book is plainspoken, wise and enormously original. It is a book that addresses past and current coaching abuses, forges new developmental pathways and expands future coaching horizons. This is a book written for every soccer player, aficionado, coach or parent with a vision of maximizing each individual's potential.

For further information on "Training Soccer Legends" opportunities i.e. camps, clinics, consultancy, advice and franchises. Please contact Andy Barney at andy@happysoccerfeet.com or 913-636-4073.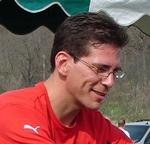 Scott grew up in the Kansas City area and graduated from Belton High School in Belton, MO. Scott began playing soccer in the Grandview Belton Soccer Club around the age of 8 and instantly fell in love with the sport. Over the next ten years Scott played competitively with multiple teams, improved his skill and determined that he wanted to become a professional soccer player.
Scott received a scholarship to attend Lewis University in Romeoville, IL and played soccer there for one semester under Nationl Staff Coach Alex Hernandez. Scott returned to Kansas City to get married and be closer to his new daughter Diana. There he received a scholarship to play for Bobby Bozada and the UMKC Kangaroos.
Scott left UMKC to pursue a professional career and over the next two years tried out for seven professional teams with the last team offering a contract. Negotiations fell through and Scott returned to college at Johnson County Community College coached by Jim Schwab. While there Scott led the country in scoring at the NJCAA level for most of the season and received MVP honors for his efforts.
In the fall of 1990, Scott was invited to play in the MISL All-Star Budweiser Classic to be played in Kansas City at Kemper Arena. He scored two goals in the game and garnered enough attention to be drafted by the Kansas City Comets. He signed an amateur contract with the team and ended up traveling and playing one game on the road in Tacoma, WA. The Comets folded the next summer and Scott was drafted by the Kansas City Attack of the NPSL.
Scott signed with the KC Attack the following year and after seven tryouts, an amateur contract, three colleges and three years of trial he began his official professional playing career. Scott played in two leagues year round for the next seven years and ended his career in Biloxi, MS.
Over the next eight years Scott worked in Sales and Management and coached College and High School soccer. He also married and added two little girls to the family after finishing his degree at Emerson College in Boston, MA.
Eager to return to full time coaching Scott approached Andy Barney, an old friend and colleague as well as former employer. Andy convinced Scott that the best place for his talents was in the youth premier club side of coaching. From there Scott became an official Legends partner and started his own Legends Club.
Scott came up with an idea for a preschool soccer class he called Happy Feet in the summer of 2006. He took the idea to Andy Barney and together they formed two companies over the next six months to perform classes and to take the HappyFeet/Legends concept across the country. The results have been nothing short of amazing as tens of thousands of children across the country now participate in the Happy Feet program and the Unique Out of the Box Legends Training Methods.
Coaching Experience
USSF Licensed CoachWilliam Jewell College Head Men's Soccer Coach
Park University Men's Assistant Head Coach
Columbia County Girls Varsity CoachCrossroads Catholic School Girls Varsity Assistant Coach
Arizona Youth Staff Soccer Coach
20 years of camp and youth premier coaching

scott@happysoccerfeet.com
Phone: 816-728-9922